Prom Dress Styles
One of the biggest parts of prom is the fashion, particularly prom dresses. Though styles and trends are always changing, there are a few staple dress styles and looks that you will see at prom.
Ballgown:
These magical dresses give the look of a princess. They feature a fitted bodice and a large flared skirt.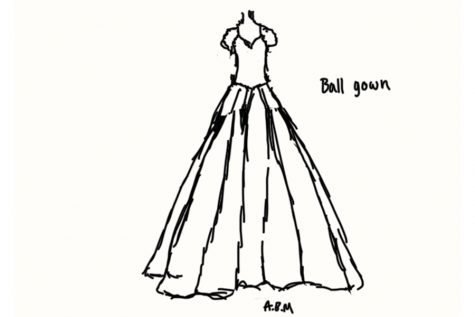 Trumpet:
A trumpet-shaped dress resembles its name. It features a fitted bodice that flares out, beginning at the hips. The skirt resembles the shape of a trumpet's bell.
Mermaid:
Mermaid-style gowns have a dramatic fit, in which the dress is extremely fitted from the top of the body to the knee. A mermaid dress could be considered a variation of the trumpet-style gowns. However, at the knee, the dress flares immediately out. The skirt is often made of several layers of fabric/tulle.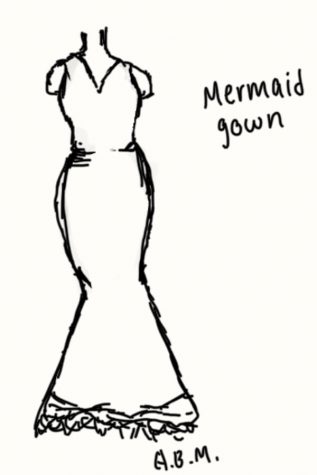 A-Line:
A-Line gowns are very similar to the ball gown fit, featuring a fitted bodice. However, different from a full ball gown skirt, the A-Line skirt gradually widens to create an A-shaped silhouette. The dress could be considered the slimmer version of the ball gown style.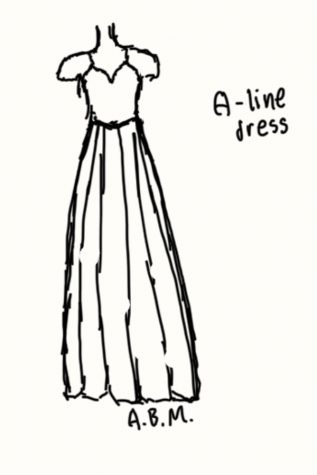 Sheath:
Sheath dresses are much lighter than the other styles, making it more fitted to the body. These dresses have a more straight fit/skirt, unlike A-line gowns.
Off-the-shoulder:
An off-the-shoulder gown is a great way to show off the neckline. With small sleeves that lay just below the shoulder, an off-the-shoulder look is effortlessly flattering.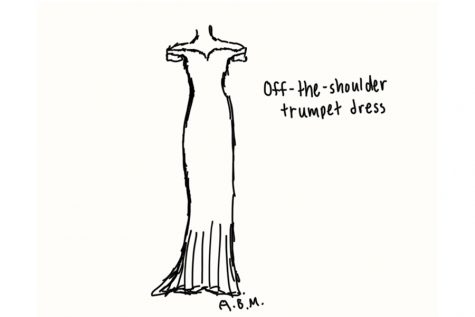 Illusion:
Dresses that include an illusion design often feature a neckline or bodice made of sheer mesh material. The dress gives an illusion of being partially see-through.
High-neck:
A dress that has a neck line that rides high presents a classy look, often featuring an open back or embellishments on the chest.
Two piece:
Tired of the conventional one-piece dress? A two-piece dress may be for you. This type of dress shows off a little bit of the midriff, coming in dozens of different looks and styles.