Senior Spotlight: Cece Fatta
Fatta named National Merit Scholar Finalist
Senior Cece Fatta's hard work has paid off in big ways as her senior year comes to a close. Fatta has qualified as a National Merit Scholar finalist, a reflection of her academic success in her career at Parkersburg High School. The National Merit Scholarship is an academic competition based on  scores from the official PSAT given to juniors, and only a select amount of students in the top few percent are awarded scholarships. Out of the 1.5 million juniors who took the PSAT for the National Merit Scholarship in 2019, Fatta is among the top few percent who qualified to compete for the scholarships awarded to college students.
Fatta prepared by taking practice SATs in the weeks leading up to the actual test, reviewing and studying missed questions. Fatta discovered she had qualified, not from the program or College Board, but her friends who had seen her name published in the list of finalists. Finding out that she qualified as a finalist through her friends was not exactly how Fatta expected to receive the news, but she was pleasantly surprised.
As a member of Key Club, science teams, National Honor Society, National English Honor Society, student cabinet, competitively jumping rope, and volunteering at Camden Clark Medical Center, Fatta has always been involved in the school and the community. She advises younger students to also get involved with extracurriculars as early as possible, focusing on the ones that interest them the most.
Academics are very important to Fatta, having taken eight AP classes last year along with eight more this year. She strives for success in these classes with the support of her family. Fatta feels she has gained experience for future college courses, especially in classes like calculus and physics.
Fatta is currently looking at several options for college, and has already been accepted into Columbia—a top contender for her. Her future is filled with possibilities, and her interests of study reflect it. Mainly focusing on evolutionary science, nutrition, food science, and French, Fatta is searching for the perfect college to fit these interests and help her excel. Her excitement for the future motivates her in her academic journey.
"I'm not sure what sort of career I want to pursue, but whatever it is, I want to do it well," said Fatta.
Leave a Comment
About the Contributor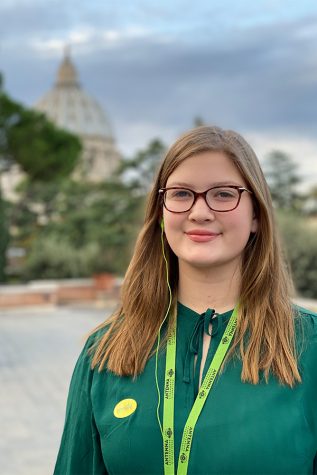 Kelsey Golden, Editor
Kelsey Golden is a senior, looking forward to graduating with the class of 2022. This is her second year with The Journal, and she loves writing about...