Wood County Teachers Receive COVID Vaccine
Wood County continues to work hard to roll out vaccinations for teachers.
In December, the WV Department of Education sent a survey to all Wood County school employees concerning COVID-19 vaccinations. Vaccine distribution began on Thursday, January 7 at PHS, for teachers 50 and older. Wood County continued to vaccinate its teachers through January, February, and March. Some teachers received two doses of the Moderna vaccine; others received two doses of the Pfizer vaccine, depending on whichever was available at the time.
Julie Bertram, Health Services Coordinator for Wood County Schools, has been working with school nurses to distribute vaccinations to educational staff in Wood County. "So far, we have administered 2,631 single COVID-19 vaccines. We have fully vaccinated 1,210 educational staff," said Bertram.
Wood County is finishing up vaccinating all full-time educational staff. "We have 212 staff who are scheduled for a second dose on April 16. They are the last of the full-time staff who requested vaccinations," said Bertram.
In the next few rounds of vaccines, Bertram would like to begin vaccinating family members of staff. She hopes to continue distributing vaccinations through the rest of the year. "I'm willing to vaccinate anyone as long as I continue to have access to the vaccines," said Bertram.
English teacher Joe Stephens received the Pfizer vaccine in the first official vaccine distribution for Wood County teachers in January. He said his experience was an easy one. "I walked in, filled out a sheet of paper and went straight to the table for my shot. No waiting at all, and the shot didn't hurt a bit. I had to wait fifteen minutes to make sure there were no adverse reactions. I didn't have any," said Stephens.
Elizabeth Knapp, health teacher, was also vaccinated in January. "There were a limited amount of people because we were all given a time slot to reduce the crowd size. People came and went in a very methodical way, so we could stay a far distance from each other," said Knapp.
Math teacher Barbara Gelpi also felt that her vaccination experience went well. "The staff had prepared thoroughly and was ready for us. There was very little wait time, and everyone was friendly, efficient, and worked to put us at ease," said Gelpi.
Teachers 50 and older received their second vaccine on January 30, shortly before school returned five days a week the week of February 15. However, not all teachers who wanted to be vaccinated were vaccinated or fully vaccinated at that time. As of the date of this article, most Wood County teachers have been vaccinated.
View Comments (1)
About the Contributor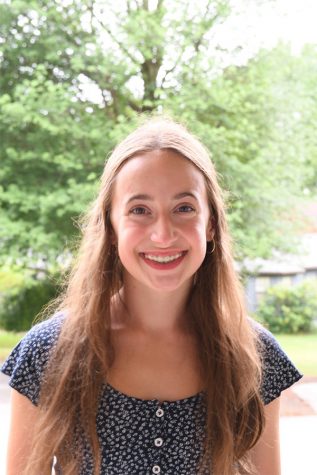 Anna Martin, Staff writer
Anna Martin is a junior and a lover of the outdoors. In her free time, she enjoys swimming, running, skiing, and dancing. She also enjoys playing with...