Local Places for Coffee
Owning and running business is a challenge many consumers overlook. In order for a business to be successful, they need customers. This is especially true when it comes to restaurants. With the rise of COVID-19, it's now even harder for restaurants to stay open. To help some local restaurants, I decided I wanted to get my daily caffeine boost from locally-owned, or small, businesses, and give my honest review on some of the drinks from these places.
First, I stopped by The Bodega, located at 2808 Grand Central Ave. in Vienna. I've been a Bodega customer for around a year, and almost every time I've stopped by the workers have always been kind and welcoming. As for the drinks, I've tried some of the best and worst from here (which can be expected from any place). My favorite drink they make isn't actually coffee, but a hot Chai latte. The Bodega beautifully captures the spices of Chai with sweet tastes blended in. To enjoy the full value of this drink, I recommend getting the drink hot; the foam on top of the latte is like a sip of heaven. If I need an extra boost of caffeine, I'll ask them to add a couple shots of espresso to it. My only critique is that I wish the drink wasn't as sweet as it is.
Another place I stopped is the Unity Café International Restaurant and Creperie, located at 212 7th St. in Parkersburg. When I walked in, I was slightly nervous since I'd never stopped here before, but the staff instantly eased my stressed. They were very welcoming and helpful. I ended up ordering an iced Coco-Mocha-Nut. I didn't have high hopes for the coffee, given that it's more of a food place than a drink place. However, this was one of the best coffees I've ever had.  The drink was so creamy with a perfect blend of chocolate and coconut. The coffee in it wasn't strong at all, but it still managed to gave me my daily buzz. I also had to order a crepe to go with it, which was also delicious.
Though a little further of a drive, I really wanted to try Jeremiah's Coffee House, located at 175 Front St. in Marietta, Ohio. This café is 100% worth the drive. I ordered an iced Pumpkin Spice Latte. First, when I discovered they had pumpkin spice year round, I almost cried tears of happiness. Not only did they have pumpkin spice, but it was hands down the best pumpkin spice latte I've ever tried. The sweetness perfectly complements the spice, and it was all flawlessly blended with the espresso. It definitely made me miss Fall. The only downfall of Jeremiah's (other than the drive) is their hours. They're only open seven a.m. to three p.m. Monday- Thursday, and seven a.m. to five p.m. on Friday and Saturday. Next time you happen to be in Marietta, I'd definitely give this place a try.
Lastly I went to Stoked, located at 1606 Blizzard Dr. in Parkersburg. Stoked is not as small of a business as some of the other restaurants I visited. There are two different locations, in Parkersburg and Marietta, but it's still a place only in the Mid-Ohio Valley. A plus side to Stoked being more mainstream is that they have a drive through. I ordered a Gingerbread White Mocha. This drink wasn't one of my favorites, but it was still a decent drink. It tasted just sweet with some cinnamon undertones, which was boring to me. However, though it was sweet, it wasn't overwhelmingly so. I wish it had more spice too.
All of the drinks I tried were better than most of the mainstream ones I've had, and the staff at each of these places were all very kind. Even if they were busy, they each went out of their way to welcome me, and even suggest drinks. Local places can only run if we order from them, unlike bigger chains located all over the country. Next time you're craving a caffeine boost, I'd recommend giving one of these local establishments a try.
Leave a Comment
About the Contributor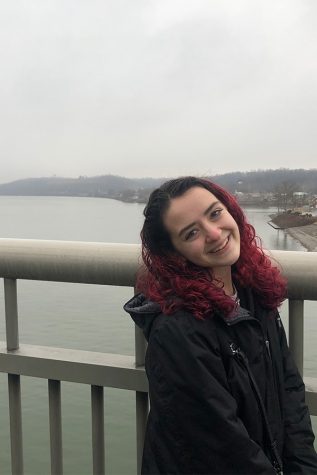 Juliette Keefer, Editor
Juliette Keefer is a junior, graduating with the class of 2022. This is her first year as the editor of The Journal, a role she takes great pride in. She...