Senior Reflection: Anna Earl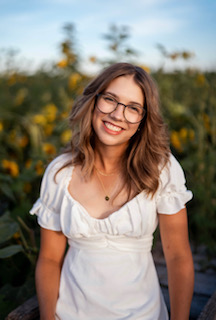 Before my first day of high school, an upperclassman told me, "Enjoy it, Anna because it's going to go by in a blink of an eye." At the time, I laughed, because how could four years go by quickly? She was right, my time at PHS has been a blur full of ups and downs. There are so many people I have to thank for making this time so special. 
My freshman year was cut short because of Covid-19. My sophomore year was a mix of remote learning and in-school time, and most of my junior year was spent in a mask. Senior year, my final year of high school, has been my first normal year of "the best years of your life." These curve balls have taught me to appreciate the time I have, while I have it.  
Despite spending most of my four years outside of the PHS walls, I have to thank it for the amazing friends and memories. Representing the Big Reds on the golf course has got to be what I am most thankful for. Golf has given me a second family, it has connected me with people across the state that I would drop anything for at just a phone call. I am forever grateful for amazing coaches who gave us the opportunity to play at incredible courses and supported me every step of the way. Mark, thank you for taking hours out of your day to teach me how to chip. Vince, thank you for all of the rides to and from tournaments, for humbling me every day in a new way, and supporting my love of the Poky Dot and French toast. Having amazing teammates made it easy to go to practice and matches when I knew I was about to have fun with my friends for two hours. 
Within the school I have found my place in room 311C. Through journalism I have found my place in a community that I didn't know existed before high school. Yearbook and newspaper gave me something to look forward to every day. Working to get from a staff member to an editor was a great feeling. Journalism helped me grow as a person in and out of the classroom. It has taught me important skills such as public speaking and confidence, which will help me in my life after high school. 
Finally, I need to thank the incredible teachers I've had over the years. Mrs. Colvin and Mrs. Slone wrote me countless recommendations for colleges and scholarships. Mrs. Full, thank you for the recommendations, and for opening my soup every single time I had it. Thank you to Mrs. Fleshman for letting our lunch group eat in her room. I'm sure you enjoyed all of our gossiping. Thank you Mrs. Berry for being my personal college counselor. I don't know what I would have done without you helping me every step of the way. Finally, thank you to Mrs. Koreski for letting me spend seven periods a day in your room and listening to everything that I ever needed to talk about. 
To all the underclassmen, enjoy it while it lasts because it will go by in the blink of an eye.