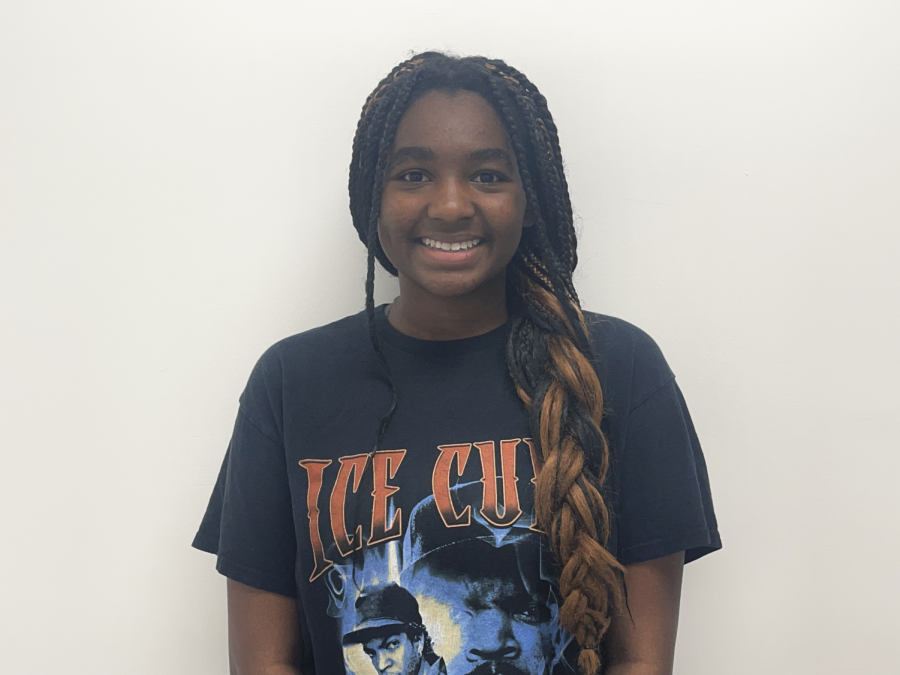 Rayna Cabbil, Junior
What's in a home? Junior Rayna Cabbil can tell you just that, hoping to aid future homeowners in turning their dreams into reality.
"I really want to do real estate because you can also travel the world and see different places."
To allow her to achieve her career goals and have the opportunity to return to her hometown of Baltimore, Cabbil plans on attending the University of Baltimore.
"I used to live there," said Cabbil. "I have family that lives down there, and it's closer to home. It's not too far away like going out to New York. It's like a reconnection back to where I was born at and my roots."
When it comes to her involvement in extracurricular activities, Cabbil is an active member of the girls track team and Junior Cabinet. She also enjoys crafting and jewelry making and is currently working on designing her prom dress for next year.
"I enjoy [track and Junior Cabinet] because you meet new people, and you get to do stuff besides schoolwork, like you get to plan prom, do fundraisers," said Cabbil. "Track, it's fun. It is hard, but you get to go on overnight trips with your friends and get better at something you love, and it's fun to be out of the house and be with people you love."
Cabbil also has a passion for assisting others and exploring new cultures, which she hopes to do more of by visiting different places.
"I want to still help people," said Cabbil. "I would want to go to Africa and help the kids that don't get to go to school like we do."
Fascinated by different languages, Cabbil anticipates her travels will allow her to learn more about them. One language Cabbil is particularly interested in is French.
"I think not a lot of people really speak it around here because we're in West Virginia, but I would just like to try it," said Cabbil.
Finding utmost importance in supporting Black creators, Cabbil enjoys reading about them and learning about their endeavors and victories.
"This one book I got, like a few months ago that I already finished, was about Viola Davis," said Cabbil. "She's an entrepreneur and actress and reading her backstory is hard because she was treated differently. She's one of my favorite African American artists because she is so big and successful now, but back then she was treated horribly."
As someone who moved to West Virginia at a young age, Cabbil had to adjust to the new environment, especially in school.
"I wasn't used to being the only Black person in the class, especially when we were talking about history," said Cabbil. "I felt singled out because I'd be the only Black person in the class, and a lot of people just give me looks."
Despite the comments Cabbil receives, she tries to remain unbothered by what others have to say and societal standards. She also wishes that people had a different mindset and didn't tie personality to race.
"I was made fun of for my skin color or the way my hair was," said Cabbil. "I always had to straighten to have nice hair like white people. But as I got older, I read more. I don't need to do that, and then I became rooted in my history."
Acknowledging the importance of learning from historical events, Cabbil hopes more people will recognize the changes that still need to be made when it comes to social issues.
"It's not bad to look back and see how much time has changed and see you can still do more," said Cabbil. "Just because [others] did a lot doesn't mean we can't do more."