Romanowski Wins Art Teacher of the Year
When you're Emma Romanowski you see art everywhere you look. So, it seems fitting that after only seven years of teaching, Romanowski won the Secondary School Art Educator Award at the West Virginia Art Education Association conference on Saturday, October 23 at West Liberty University.
According to their website, the West Virginia Art Education Association (WVAEA) advances West Virginia's art education and promote the arts essential elements in education programs.
Romanowski said winning the award felt amazing.
"It's crazy to me that I've only been teaching for seven years, and I got this award," she said.
After being nominated for the award, Romanowski had to fill out a form and write a short essay about herself to confirm she qualified as a nominee and prove why she should be chosen.
Sophomore Kyla Johnson takes drawing with Romanowski.
"Her winning the award is well deserved. She's a great teacher," Johnson said.
Romanowski attended West Liberty University to major in teaching social studies while she was also taking graphic design.
"The chair of the art department, Brian Fitzell, told me that I should be an art teacher since people generally like me," Romanowski said.
This year is her seventh year teaching art. She teaches Art 1, Art Appreciation, Drawing, and she sometimes teaches Art 3.
Romanowski also does a lot outside of school in the Parkersburg and Vienna communities. She takes commissions for paintings and drawings, does photography, works at the Cardinal Market in the Grand Central Mall, teaches painting classes and volunteers to paint murals around town.
Leave a Comment
About the Contributor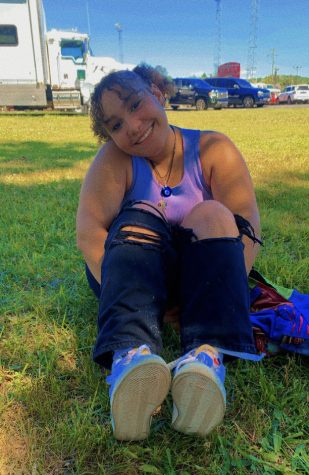 Erika Gulley, Staff writer
Erika Gulley is a senior and a third year staff member for The Journal. You'll most likely find her at Burger King where she works at least five days...