Senior Spotlight: Molly McLean
Molly McLean is likely a name you have heard before. Whether it was in the newspaper for being medalist in a golf match, or on the school's morning news running for senior class president, McLean is an active part of the school's athletic and academic communities. The senior recently placed second in the West Virginia Girl's State Golf Invitational, and has a GPA of 4.2.
McLean has big plans after high school. She plans on going to nursing school to become a neonatal nurse, and studying abroad the first semester of her sophomore year. Although she has plans for the future, McLean is focused on right now.
"My goal is honestly just getting through the year in one piece. As a senior there's about ten times the amount of stuff you have to worry about," she said.
McLean is a member of the varsity golf team, student council, Senior Women's Club, Senior Cabinet, and the A Cappella and Chamber choirs. Due to COVID-19 restrictions, the A Cappella Choir hasn't been able to have their yearly trip in three years. This year, they are going to Nashville, Tennessee.
"I'm really excited to finally go on our trip. We haven't gone on one for three years," said McLean. "I'm also excited for my last Christmas concert. It's my favorite part of the year."
Although she is well known for being a golfer now, golf wasn't her first sport. McLean got into golfing after trying many different sports.
"I hated every sport I had played up to that point," she said. "I tried golf and didn't hate it."
McLean is planning on playing golf in college, although she isn't sure where yet. This won't be hard as she is the first girl in West Virginia history to be All-State in the Girl's West Virginia High School Invitational all four years of her high school career. Not only was she in the top eight in the state each year, but she was last year's champion. This year, she shot 74 in the 18 hole tournament, and was edged out by one stroke by Cabell Midland's Taylor Sargent. Another one of McLean's favorite golf accomplishments was leading a tournament early in the year at The Jones Course at Oglebay. She was leading by two strokes despite the horrible conditions of cold weather and pouring rain. After 14 holes and two rain delays, the course was deemed unplayable so McLean didn't get to finish her round.
Despite some setbacks McLean is proud of her team.
"My season is going great. I'm proud of how everyone on my team is improving, myself included," she said.
On Sept. 27, the team competed in regionals at Greenhills Country Club in Ravenswood. The team place third; however only the top two teams move on to states. Two individual spots are earned by the two lowest scores. Parker Vannoy from Parkersburg South took the first spot, and McLean and teammate Brielle Milhoan tied for the second spot. They were forced into a playoff, which McLean won.
McLean competed in the West Virginia State Golf Tournament at Olgebay in Wheeling on Oct. 5 and 6. She shot 80 on the first day, and 81 on the second. This combined score of 161 earned her seventh place in the state, placing her on the All-State Team, and setting a school record, making her the first female golfer with a photo on permanent display in the Field House.
View Comments (1)
About the Contributor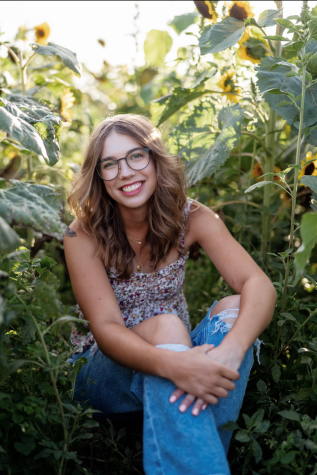 Anna Earl, Editor in Chief
Anna Earl is a senior and has been on the newspaper staff for three years, serving this year as editor in chief. She spends most of her time in the journalism...